Be a Bit Better!
TAKE TINY STEPS AND FINALLY FINISH, WHAT YOU START! 
we help you to scale down your big intentions to smaller easily achievable steps,
so you will succeed for sure

you will learn how to create Tiny Habits® to make changes ridiculously easy
so that you don't need much motivation or willpower

you will find solutions, that are personalized according to your needs and wishes
so that you can be flexible and make changes in a fun and stress-free way
Join us on the journey of mastering tiny habits and being a bit better every day!
Be a Bit Better Newsletter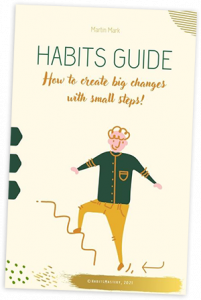 Weekly emails with practical tips
Focus on one useful topic every month

And much more 🙂

Receive a FREE e-book for signing up now: "Habits Guide – How to create big changes with small steps"
Testimonials for Habits Mastery courses
"I came across the course when I was feeling particularly lost in my world and wanted to gain some control. By doing the course I have found a simple method to keep my main goal and value/belief system in my consciousness.
With time, I feel that this will have more of a stabilizing effect on my life than most things I have tried.
The course is easy to learn about and implement. My coach was prompt to reply and give the right advice. I would recommend giving the course a go just to get a small habit established and build from there!"
"I enjoyed the laboratory hands-on approach of being both subject and experimenter for developing habits, in order to learn first-hand what works and what doesn't.  What I learned during this five days was enough to set me straight on the path to mastering habits in all areas of my life.  I am happy that I now have three improved and solidly cemented habits that I will automatically perform every day, and also the knowledge of how to do reliably apply this approach to any habits I wish to acquire in the future.

 

Thank you, Martin, for your support during the process.  It has been enlightening."
"Martin, you were great and prompt, I must say it helped me to be in control of myself. I mean, in control of my day and of my life. I strongly suggest to people who want to live in a moment and to live a joyful life, to look for tiny change in their life by doing tiny habits."

 
"I highly recommend Tiny Habits, and Martin Mark as a coach, to anyone who wants to learn how to change or create a new habit. By working with Martin, I learned that by making a small change to how I start my day, I now have less stress and much better use of my time in the morning. I'm very pleased with my experience."

 
"I think that it's a really good approach, simple and effective. I found myself doing the things I set myself quite easily. Many thanks!"

 

 
"What has surprised me most is HOW WELL this WORKS, and HOW tiny the habits really are… AND I am enjoying this progress!"

 
Hello!
We are Ula and Martin, together we create Habits Mastery for You. A place for people who want to change their lives for the better by introducing small but permanent changes, through tailored methods. 
We share our knowledge and experience in the areas of habits, personal development, and design thinking. We help to design and introduce changes, and thus become a bit better and achieve goals. We take great joy and pleasure from seeing our clients' development and change in their and others' lives for the better.
Martin is a Certified Tiny Habits® Coach and helps people who want to improve themselves. He teaches how to create new life by changing tiny habits, so that you can improve constantly, without depending on motivation and willpower.
Ula is the Training & Development Specialist. She has several years of experience in this area. She makes workshops and trainings about self-development, creativity, and design thinking. In her work, she connects culture, art, and education.