Remote Work Habits Survey
Remote work has become more and more popular among workers and companies. There's no doubt – it's here to stay. We've noticed a growing interest in shaping good habits in this area. We were also asked by companies and organizations to help their workers make remote work better, easier, and more efficient.
As it's still the topic to discover, we decided to make our own research in a bigger group. To have a better picture of challenges, needs, and struggles when working remotely. Then we'll be able to design solutions based on this and help in designing good remote working habits.
If you don't work remotely – share the survey with somebody who works.
Any info is precious and we will take it into consideration.
In the end – we all want to make our lives at least a bit better
Martin Mark
Certified Tiny Habits® Coach
Creator of Habits Mastery
Join us on the journey of mastering tiny habits and being a bit better every day!
Be a Bit Better Newsletter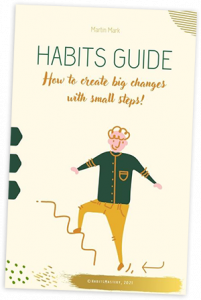 Weekly emails with practical tips
Focus on one useful topic every month

And much more 🙂

Receive a FREE e-book for signing up now: "Habits Guide – How to create big changes with small steps"