Our story
Hi!
We are Martin and Ula. Creators of Habits Mastery and the #BeABitBetter movement! 
We help you to get back on track with your aspirations, by thinking and acting tiny.
Why tiny? Here's the story.
Our journey with self-development started around 15 years ago. For as long as we remember, we have always wanted to be better and develop ourselves. We were acquiring knowledge, methods, inspiration, and learning a lot. We have put things into practice, tested them, set big goals, succeeded, failed, and…. tried again. In this process, we noticed an important thing: making radical changes that require big resources and efforts from the beginning, doesn't always work in the long run. 
On this way, we discovered small steps – the method that works for us and helps us implement changes. Tiny actions combined together lead to achieving big goals. Have you heard the saying: "Constant dropping wears away a stone."? Small steps are exactly like this!
Of course, it wasn't a totally new approach, but realising the power of thinking tiny was a really big personal discovery. So we started to dig into this topic: how to achieve big goals with small steps? This is when habits appeared. 
Habits are the actions we do automatically, without the need for motivation and willpower. Learning and experimenting a lot brought the next discovery – Tiny Habits® – a method to create habits only in 5 days. You can imagine this feeling when you see that you can use consciously created habits to improve any field of your life! It was so awesome and a great discovery that led to the next step – becoming a Certified Tiny Habits Coach to master this method. 
Since then the great adventure of changing people's lives began! Working with them, helping in self-development, pushing to be a bit better every day.
Why only a bit? Cause all the experience that we have had so far, personally and from others was showing: if you want to achieve big goals, start tiny. Probably you heard: think globally, act locally! So just do it in your personal life. 
We are on the journey of being a bit better all the time. Every day we learn, discover, and collect new experiences. We share what we learn and we help you to get back on track with what you need. Just think tiny and be a bit better!
Would you join us on this journey?
Join us on the journey of mastering tiny habits and being a bit better every day!
Be a Bit Better Newsletter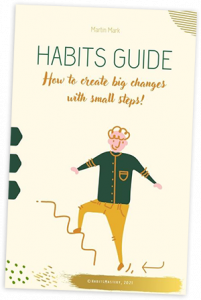 Weekly emails with practical tips
Focus on one useful topic every month

And much more 🙂

Receive a FREE e-book for signing up now: "Habits Guide – How to create big changes with small steps"