Certified Tiny Habits® Coach
What is coaching?
It is the art of asking questions. Effective and open-ended questions.
It is a process in which the coach helps the clients come to the answers and solutions they are looking for. The coach is not a psychologist or adviser. The role of the coach is to guide the client through questions, towards discovering his resources and using them in an unlimited way.
I am a Certified Tiny Habits® Coach from Estonia and I help people who want to improve themselves. My area of ​​coaching is making life changes by creating, implementing, and replacing habits. I teach how to create new life-changing tiny habits, so that you can improve constantly, without depending on motivation and willpower. 
Coaching is a specific form of work. Not every issue is suitable for working on it with a coach. That's why before the coaching process, I make the discovery session. 
What is the discovery session for? 
In this session we'll talk about:
– what is coaching and what is the role of a coach
– what are my methods and style of work 
– what are your expectations and goals that you want to achieve
– what are your expectations about coaching and about me as a coach
– we will decide together about further cooperation.
Discovery session lasts approx. 30 minutes. It takes place online, at a mutually convenient time, and is free. In case we'll decide to cooperate together, the next sessions will be online and will last about 60-90 minutes, depending on the program. 
Want to be coached by me?
If you want to make some changes in your life and need help creating new habits,
then write to me: [email protected]
I will design a personal program especially for you.
Martin Mark
Certified Tiny Habits® Coach, Creator of Habits Mastery
What are Tiny Habits®?
Designed by Stanford behavior scientist BJ Fogg, PhD, the Tiny Habits® method is an easy and accessible way to effectively develop a new behavior. 
Tiny Habits quickly builds people's motivation, confidence, and hope. The method has already helped thousands of people successfully acquire new habits.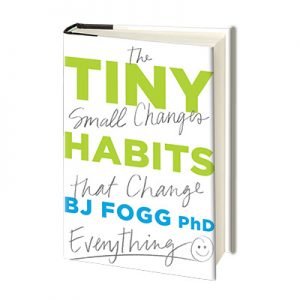 Learn more from the recently-released New York Times and Amazon bestseller Tiny Habits: The Small Changes that Change Everything. Authored by the world's leading expert in behavior design, BJ Fogg, the book introduces the Tiny Habits method that has helped thousands of people build their ideal lives. It's full of insightful, practical advice on how to form new habits successfully.