Forget about thinking big. Think tiny!
There are two good times to start thinking tiny:
You have tried to make big changes or to achieve big goals and you have failed

You have made big changes or achieved big goals and now you are tired
In both cases, you have to get back on track. After you have struggled with goals and resolutions, when you have felt that you will never make it. After you lost all your motivation to change or improve anything, it is a good moment to start again.
But this time a bit different. Maybe you can forget about the enormous challenges for now and start finding tiny ways to improve? Doesn't matter that for some people setting big goals and taking on big challenges has been working. We are not the same. We have different experiences, backgrounds, habits, environment, friends. What works for some, doesn't work for everybody.
The same situation can happen when you have done a lot in your life already. You feel that everything is good, life is fine, you have reached your goals, but now what? There is no need or maybe there is no will or energy to keep going with these big, crazy endeavors. Your motivation drops and you hit a plateau.
So, instead of thinking big, think tiny! Not small, but TINY! Small is still too big. When you think tiny, you will get rid of all the obstacles on your way. You will not need almost any motivation because the things to do are so easy and they don't take a lot of time or effort.
The magic of thinking and acting tiny is that you will succeed all the time. Whatever you decide to do, you will manage it. These tiny things can even become your habits. This way they will be more easier and you don't even notice doing them anymore.
Let's think about some examples. You want to lose some weight. What tiny action could you take instead of going on a diet? Maybe put some vegetables on the shopping list? Maybe drink a glass of water? Maybe take a deep breath before eating and remind yourself not to eat more than necessary? Maybe you could read a blog post about nutrition?
You want to move more. What tiny action you could take instead of training for a marathon? Maybe you could stretch in the morning? Maybe you could buy a standing desk? Maybe you could start your day dancing? Maybe you could find an educational YouTube channel about exercising for beginners?
Think about what you want. How can you make it more approachable? Just be creative and push yourself to think tiny! If you think about an action that could help you, think about how to make it even more tinier. Make it ridiculously tiny. Have fun with it! And then do it!
If you have trouble thinking tiny you can join my Tiny Habits® Course and learn how this method can help you to make changes while having fun!
Martin Mark
Certified Tiny Habits® Coach
Creator of Habits Mastery
Join us on the journey of mastering tiny habits and being a bit better every day!
Be a Bit Better Newsletter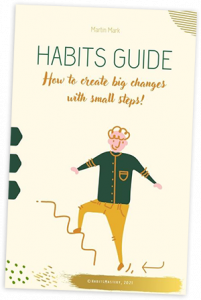 Weekly emails with practical tips
Focus on one useful topic every month

And much more 🙂

Receive a FREE e-book for signing up now: "Habits Guide – How to create big changes with small steps"