Another year is ending, other reflections are coming on what came out, what did not, what was missing, and what overwhelmed.
As Habits Mastery, when we look at our plans from last December, we can say that we did quite well. Small steps, according to the philosophy of "be a bit better" – we moved forward.
This does not mean that we did 100% what was intended.
As in the case of introducing changes, also in the case of introducing new projects, we took small steps, tested, observed, drew conclusions, and modified ideas. Some of them we put off for later, seeing and feeling that this is not the best moment to implement them. At the same time, new and different ones appeared. There are also some that are still in the modification phase and will appear in the New Year.
So – what has changed then?
Our offer has expanded:
-we have expanded the Tiny Habits course so that you feel more cared for and have more support from a coach;
-we have launched the 6-week coaching program, combined with elements of Behavior Design and Design Thinking.  So that you can, with our support, plan and implement changes that respond to your real needs and that will bring you real benefits;
– we have created the audio course "First steps to small changes" for those who do not always have the time and opportunities to join trainings or workshops but want to develop and do it at a convenient time for them.
We have also updated the e-book "Habits guide", where you will find basic and concrete knowledge about habits and the process of their creation. We also planned to prepare a workbook to go along with it, but as they say, for now, it is "a success distant in time".
Those who will decide to choose the "Be a bit better" 6 weeks Coaching Program – will get our extra gift – "Self-care kit". It's a short guide about how and what habits to implement to take care of yourself more. 
The "Be a bit better in 2022" calendar is also still available! You can get it after subscribing to our newsletter. 
And yes, newsletter! This is another novelty that will start working in the new year 🙂
If you want to get practical extra content, info about new blog posts, webinars, trainings, tips & tricks helpful in being a bit better process and much more once per week – sign up!
To this list, we can add the joy of the possibility of conducting online and offline workshops for various groups. Nothing fills us with enthusiasm more than the results of our and our clients' work and their satisfaction.
We are grateful for this year. For what we have done and for what, for various reasons, has been postponed to a different date. Apparently, it wasn't that time yet. We are grateful for every participant, client, and comment. We are also grateful to be able to do what we do. For health, for opportunities, for people around.
As this is the last entry this year, we invite you to reflect on what happened in 2021. Find a moment for yourself, with coffee or tea, and think for a moment:
what are you grateful for

what changes have you made?

what / who helped you introduce them?

in what have you been successful at?

why is this a success for you?

what did you put off for later?

what have you not realized?

what has been blocking you?

how did you feel about it?

who or what supported you in your changes, decisions, and plans?

what did you do to take care of yourself?

what do you want to take from this year and what do you want to save for next year?

what one word would you describe this year?
At the beginning of the year, we are preparing a challenge for you. You will find out about that in January 🙂
Meanwhile – we wish you a good Christmas time! In whatever form you spend it, let it be in harmony with you. Let it be for you and let it be good. And for New Year our wishes are Nelson Mandela's words: "May your choices reflect your hopes, not your fears."
Ula Malińska
Habits Mastery Training & Development Specialist
Join us on the journey of mastering tiny habits and being a bit better every day!
Be a Bit Better Newsletter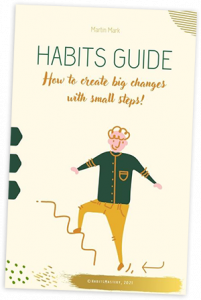 Weekly emails with practical tips
Focus on one useful topic every month

And much more 🙂

Receive a FREE e-book for signing up now: "Habits Guide – How to create big changes with small steps"